Motorcycle Maintenance Course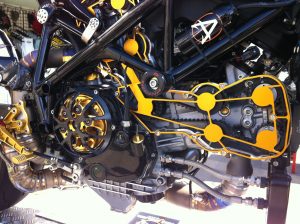 This weekend course is designed to cover a basic service on most motorcycles
through a number of theory sessions and practical exercises aimed at the beginner.
Course cost: £155.00
Thank you all for your patience and understanding over the last year of inactivity. 
It's been very frustrating for us too, but we've had to observe Covid guidelines and wait for the all clear before starting up again. Happily, we are now allowed to resume our maintenance courses!
Unless we have a change to the easing of restrictions, I am planning to run a series of courses over the next few months to catch up with the demand for places.
I am scheduling courses for the following 2021dates;
27th & 28th November (fully booked)
2022 Courses 26th / 27th February & 26th / 27th March
Please let me know your preferred dates. There are limited places on each course, so I'll have to allocate them on a first come first served basis.
During my enforced idleness, I've published the support manual for the course on Amazon. Anyone who wishes to buy the manual can do so here Basic Motorcycle Maintenance.
As a thank you to those who paid for their course last year and have waited all this time, if you wish to buy a manual I'll refund the cost when you attend the course.
Hopefully we'll all be back on our bikes again for a great summer's riding – I look forward to hearing from you!
Please call 01444 441969 for availability of places or email enquiries@bike-smart.net
Ever wanted to know how to service your bike?
Not the engine stripping, race tuning, complete rebuild type of knowledge gained by qualified mechanics; just simple, basic tasks like adjusting a chain, oil changing and how to carry out basic service checks?
Even if you don't intend to work on your own bike, having that knowledge will make you more aware of your bike's condition, its safety and the likely cost of paying someone to carry out that servicing. As part of our CBT, A2 and DAS courses at Bike Smart we cover very basic service checks but we are constantly being asked to include additional training so that individuals can look after their bikes more effectively.
With this need in mind, we have produced a course of training designed to show riders how to carry out a basic service on their own machine. Basic servicing is easily within the ability of most riders and minimal tools are required. During the course, students will be encouraged to repeat the exercises on their own bike under supervision, which means that students could save the cost of the course by servicing their own bike!
The course is usually run on the last weekend of every month. Places are limited to a maximum of 6 people, this is to ensure that every person is able to get hands on experience under supervision.
The weekend course is only £155 per person and is run from 9.30 am to around 4.30 pm each day. As places are limited it is recommended to book well in advance, although late bookings are sometimes available. To book your place, please call our school number 01444 441969 or send us an email message and we will get back to you with more details and availability of places.